Hello to all!  I am excited to begin this blog that I am calling "Kwanjangnim's Korner."  This has been something I have wanted to do for quite some time now, and now is the time to do it.  Over the past 40 years of my life I have had the amazing opportunity to learn from some of the best human beings to ever live!  I know everyone would say such a thing about the people who have molded them and been the angels they needed in the right times of their lives.  However, this blog will be about the many lessons I have learned from "my" angels and also through the experiences "my" life has taught me.
I must admit that I am doing this for some selfish reasons.  I want to remember.  I want to gather as many of these valuable lessons I have learned through just living on this earth, through going through the challenge of watching my parents get a divorce, through growing up with 3 brothers and a sister, through figuring out how to navigate my way towards truth and self-discovery, through being in martial arts and all that encompasses, through being a husband and a father, through being a business owner, through watching my mother battle cancer 3 times to have it finally take her 2 years ago, and the many other daily revelations that have come to me in quiet, and some not so quiet (I have 4 kids), moments of thought and reflection.
The topics I want to cover throughout this blog will include the following as well as others that will come up due to your comments and questions: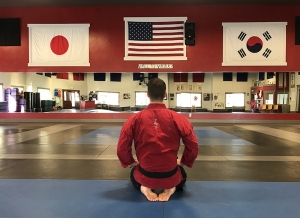 Who I am and how did I come to be where I am today.
The Values and Philosophies I have learned from life and from martial arts.
The History of my martial arts experience up until now.
Some of the Best Practices I have learned from owning and running a few successful businesses.
And many others that will be presented to me as time moves on.
I want to thank all of you who are and will be reading these words.  I do not, nor will I ever, claim to be a professional writer.  I know that my posts will be imperfect and will probably even have a typo or two.  I hope you can look through that imperfection and grasp the true messages that come from each of my posts.  I truly seek to lift others, to share my life with yours, and to have a place where you can learn from me and I can learn from you.  Please be positive yet honest in your comments so we can all benefit from them.
This is a wonderful adventure that we are all a part of, called life.  We all have so many ups and downs that are thrown at us.  One thing I firmly believe is that we ALL have something we are dealing with.  We ALL have trials, struggles, hardships, and just overall crappy things we have to deal with.  However, if we step back and realize, we all have amazing things to be ever grateful for too.  This blog will be a safe place to share those experiences.
Let the sharing of our life's lessons and experiences begin.  Ready . . . Go!
Hang Sang Su Go (In Korean it means "Always Do Your Very Best")
Kwanjangnim Richard