AGES 15 – 100+
We aim to provide to best environment and teaching staff so that you can learn and grow to love martial arts. When you learn the Omega Martial Art system, you are learning a hybrid of effective martial art styles. We have brought in influences from Taekwondo, Self Defense, Hapkido, Judo, Jiu Jitsu, and Okinawan Weaponry; thus at Omega, you will learn the most well-rounded martial art found in Utah.
Through out your martial art experience, we expect you to learn the following:
Respect toward self, toward parents, and toward peers
Confidence in self and in difficult situations
Focus
Discipline
Exercise
Flexibility
Balance
Coordination
And many other individual benefits
Martial Arts has the ability to help you develop many, if not all, of these attributes. However, class time is not enough. In order for you to fully develop into a martial artist, you must practice. With consistent practice in class and at home you will be able to learn and retain the drills, techniques, and qualities needed for progression.
RANK ADVANCEMENT
Throughout the Martial Arts Program students will periodically have opportunities to advance in rank. Rank advancement occurs when a student has learned and practiced (many times) the required techniques pertaining to that rank. Practice is crucial to a student's success in martial arts.
Each and every rank is divided into five specific sections of techniques: Basics and Kick Combinations, Sport Combinations, Self Defense, and Forms. Within each of these sections contains 2-4 techniques a student needs to learn. Once they learn the techniques, students will then be required to perform these techniques without the help of the instructor. Once a student can do this he/she will receive a stripe; this helps the instructor and the students track their individual progression. There is a sixth stripe that has to do with questions pertaining to that individual rank. Students must be able to answer and understand the principles behind these questions and have a good attitude in order to receive this stripe.
Once a student receives all six stripes, he/she is ready to pre-test. Pre-tests are basically the test before the actual test. About two to three weeks before a formal test a student is required to perform all the required techniques on his/her rank advancement sheet in front of a qualified instructor. Once students have passed off all of the required techniques for his/her rank, they are ready and qualify to test on the designated test date.
OMEGA BELT RANKS
BELTS OBTAINED THROUGHOUT THE PROGRAM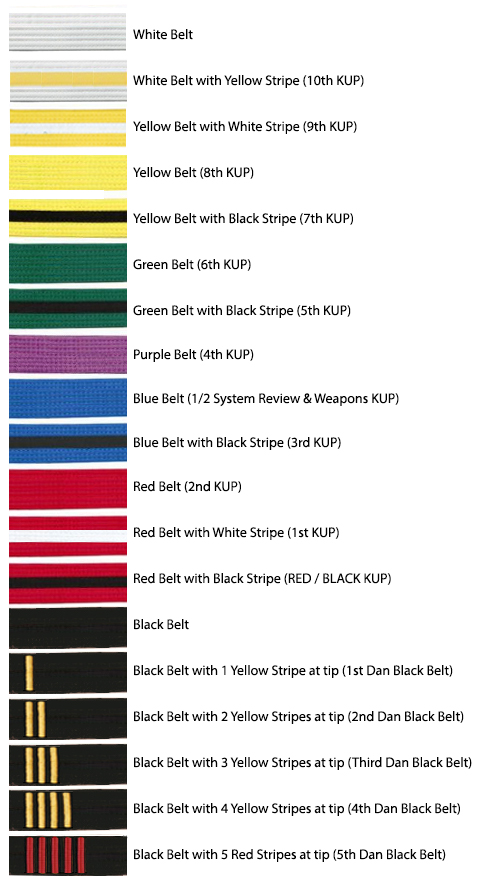 TESTINGS
Once a student earns all of the above stripes and pre-tests, he/she is ready to test. Each student is required to turn in four things before their actual test:
Written Paper (see below for description)
Test Fee
A copy of the student's current grades (if under 18 years; no failing grades aloud)
Fill out their Testing Grading Sheet (provided by the studio)
WRITTEN PAPERS
Written Papers are to be turned in before a student tests. The topics for these written papers are rank specific. You will find the topic for each of these papers on the back of your rank advancement sheet. Papers are to be thought provoking and in the words of the students (not their parents). The topic given should be addressed and covered in detail; we don't want to see one or two sentence papers. This is a great chance for students to develop the mental side of martial arts.
TESTS
A test will consist of the student performing all the required techniques on their rank advancement sheet without complications (we have provided your first rank advancement sheet in this welcome packet). If a student is able to do this successfully, they will pass the test and will receive their next belt at the designated testing announcement date. We have two types of tests for our martial artists: Informal Tests and Formal Tests.
Informal Tests
are held during a designated time set up between the student and instructor. Only the first two tests (10th and 9th KUP) are held as informal tests. There is no wait time and a student can test in an informal test as soon as they earn all their stripes. To make arrangements for an informal test, talk to your head instructor.
Formal Tests
Students are to wear their white uniforms when testing. Students must meet all their rank advancement requirements, pay their required test fee, fill out their testing form, and write a paper on a given topic pertaining to that rank. These requirements must be taken care of at least one week (specific dates will be given) before a student can be eligible to test in a formal test.
Testing is a way to see if students understand and are retaining the instruction Omega Martial Arts is providing. Testing generally causes students to be nervous and feel anxious; we believe this to be a good thing. Testing is the closest way we, as instructors, can simulate a real life self defense situation. Therefore, we encourage students to test as frequently as possible, as long as they are prepared.
Parents are encouraged to attend both Informal and Formal Tests. This is a wonderful chance to see the progression and hard work of your student.
WHAT WE TEACH
We teach a hybrid of martial art styles in order to create a well-rounded martial artist; including
Taekwondo

Hapkido

Jiu Jitsu

Judo

Okinawan Weaponry

Self Defense
COURTESY
HUMILITY
INTEGRITY
PERSEVERANCE
SELF CONTROL
INDOMITABLE SPIRIT
MARTIAL ARTS AT ITS AWESOME-EST
Our instructors and competitors are known for their superior technique and diverse martial art expertise.