Our Kid Kickers program is divided into Beginning and Advanced classes. The kids in this program range from 6 to8 years old and move from beginning to advanced classes as they test for and earn their next belt. When students graduates from Advanced Kid Kickers, they have already earned their yellow belt in our regular Martial Arts program and are ready to continue on through the belt system to become a black belt!
Beginning Kid Kickers
Beginning Kid Kickers will teach your child the basics of Martial Arts, as well as helping them learn safety and basic life skills. This three tier program includes a broken down curriculum which emphasizes goal setting and the 3 levels of focus; eyes, body and mind.
Advanced Kid Kickers
The Advanced Kid Kickers program gives students the foundation needed to succeed in our regular Martial Arts program. Advanced Kid Kickers work through the first few levels in our system, learning Martial Arts skills, safety skills, life skills and confidence. When students graduate from Advanced Kid Kickers, they hit the ground running in our regular Martial Arts program and are ready to continue on through the belt system to black belt!
RANK ADVANCEMENT
In Omega Martial Arts every student begins as a white belt. Throughout the Kid Kicker Program students will periodically have opportunities to advance in rank. Rank advancement occurs when a student has learned and practiced (many times) the required techniques pertaining to that rank. Practice is crucial to a student's success in martial arts.
Each and every rank is divided into four specific sections of techniques: Basics and Kick Combinations, Sport Combinations, Self Defense, and Forms. Within each of these sections contains 2-4 techniques a student needs to learn. Once they learn the techniques, students will then be required to perform these techniques without the help of the instructor. Once a student can do this he/she will receive a colored stripe; this helps the instructor and the students track their individual progression. The following is a list of the sections and their respective stripe color:
– Basics & Kick Combinations – Red Stripe
– Sport Combinations – Blue Stripe
– Self Defense – Green Stripe
– Forms – Black Stripe
– Overall Review – Purple Stripe
OMEGA BELT RANKS
BELTS OBTAINED THROUGHOUT THE PROGRAM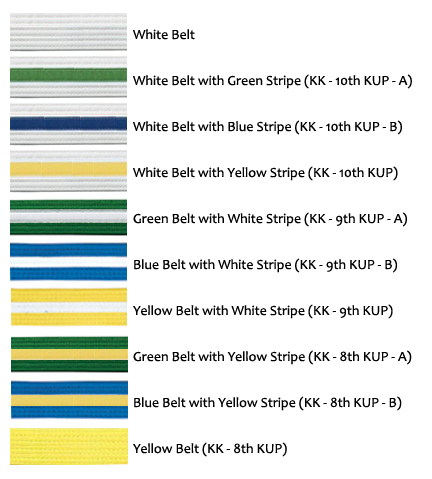 TESTINGS
Once a student earns all of the above stripes, he/she is ready to test. A test will consist of the student performing all the required techniques on their rank advancement sheet without complications. If a student is able to do this successfully, they will receive their next belt. We have two types of tests for Kid Kicker advancement; Interim (In-Class) Tests and Formal Tests.
Interim Tests are held during regular class time. If your student is ready to have an Interim Test, your head instructor will inform you by sending a note home with your student.
Formal Tests will be held generally once a quarter throughout the year (testing dates will be announced well in advance of the test). Students are to wear their white uniforms when testing. A note will be sent home prior to the test date letting you know all the details. For test fees, please contact your local school.
WHAT WE TEACH
We teach a hybrid of martial art styles in order to create a well-rounded martial artist; including
Taekwondo

Hapkido

Jiu Jitsu

Judo

Okinawan Weaponry

Self Defense
COURTESY
HUMILITY
INTEGRITY
PERSEVERANCE
SELF CONTROL
INDOMITABLE SPIRIT
BUILDING CHARACTER AND LIFE SKILLS
Our unique programs are designed to build confidence, respect and excellence during the journey to Black Belt and beyond.