JULY 8 – 13, 2019 @ Springville Dojang
(No Little Dragon, Kid Kicker or Martial Art classes)
This is our Annual Black Belt Week!  There will b e 
NO Classes
 held this week for any program.  We invite 
ALL
 students to come and watch all or some of the Black Belt Testing sessions and participate in the seminar with our Grand Master Hanshi Pano Perdaris. This week is very important to us as instructors and to you as students.  It only comes around once a year and we want to celebrate the tradition of martial arts and also those who are testing this year. Please make sure you come and watch as much of the events as you can to cheer on your instructors.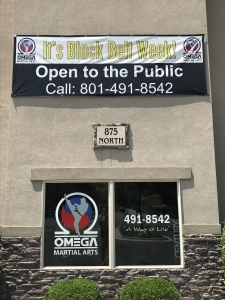 Black Belt Week Testing Schedule:
MONDAY (6 – 7:30 PM) – Meet the Candidates Night (Demos and Original Forms)
TUESDAY  (5 – 8 PM) – Last Black Belt Candidate practice night
WEDNESDAY (6 – 8 PM) – Notebooks and Table Questions (Last practice for Black Belt candidates).
THURSDAY –
(4 – 5:30 PM) – Self Defense Seminar with our Grand Master, Hanshi Pano Perdaris (All Omega students and their families are invited to attend. It is more of a lecture type seminar, so there is no need to wear your uniforms. The cost is optional, he will accept donations in any amount at the door).
(6 – 9 PM) – Black Belt Testing (System Requirements and Musicals)
FRIDAY –
(4 – 5 PM) – Tai Chi Class with Hanshi Perdaris (Anyone is invited to attend this Tai Chi class).
(6 – 9 PM) – Black Belt Testing (Weapons, Self Defense and other system requirements)
SATURDAY (9 AM – Finish) – Black Belt Testing (System Requirements, Musicals, Demos, Specialty Kicking, Sparring, Board and Brick Breaking, & Black Belt Ceremony).
Black Belt Testing is the culmination of your experience here at Omega Martial Arts. We hope all students will attend some of the testing, so you can see what will be expected of you when you reach black belt. Thank you and if have questions please call Kwanjangnim Richard at 801-491-8542.

The
27

BLACK BELT CANDIDATES:

Black Belt
SAMUEL CLUFF
HAYDEN GALE
MAX GALE
ELIZABETH JENKINS
ADAM JENKINS
RICHARD MALDONADO
LAURI NELSON
OAKLEY ROBERTS
DOMINIC RODEGEB
AUTUMN SCHOEMIG
TRACY SEGEBERG
JENNIE TAYLOR

First Degree Black Belt
JARED CONDIE
MIKE DICKEY
CALEB EARL
TESS GIVEN
MILANA HENKE
PETER HILL
LAURIE LOADER
WESTON MURRI
RYAN POWELL

Second Degree Black Belt
SYDNEY DAVIS
ETHAN DAVIS
TRAVIS EARL
STACY GALE
DANE WILLIAMS

Third Degree Black Belt
JASON BUCK